Posted by Johnny Lord on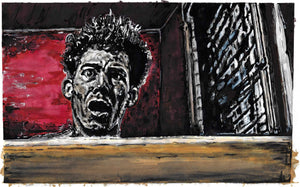 Hi, it's been a busy couple of weeks. We've been renovating our kitchen floor and now have it back to floorboards instead of broken tiles which is a massive improvement. I don't feel like I'm going to lose a toe every time I make a cuppa! It did take us waaay longer that we thought, but on the plus side we got a real workout - no bad thing! I have been working on the building piece and you can see the progress on Instagram.  Johnny the painter (@johnnyinthe56artist) • Instagram photos and videos The Astronaut piece was sold and...
Tags:

art, art gifts, art prints, astronaut, buying art, crime art, drawings, film art, films, gift for dad, gift for daughter, gift for nephew, gift for niece, gift for son, gifts for brother, gifts for mum, hunter s thompson, instagram, joan crawfors, johnnyinthe56, meaningful gifts, original painting, paintings, portrait, portraiture, The godfarther
Posted by Johnny Lord on
A quick catch up of new painting added to the online store this week:
Film art, space art, abstract art and some portraits.
Tags:

art, art gifts, art prints, astronaut, billy bremner, billy liar, buying art, coen brother, coen brother films, crime art, drawings, film art, films, gift for daughter, gift for nephew, gift for niece, gift for son, gifts for brother, gifts for mum, gifts for sister, great films, hoodies, instagram, johnnyinthe56, LUFC, meaningful gifts, original painting, paintings, portrait, portraiture, posters, prints, Pulp Fiction, pulp fiction crime, space art, the coen brothers, tom cortney